Introduction:

In a groundbreaking move, the UK government is set to launch a new scheme called "swap to stop" aimed at helping smokers quit cigarettes by offering them free vaping starter kits. Despite concerns about the increase in young people vaping, ministers are urging 1 million smokers in England to make the switch. The scheme is part of the government's broader "smoke-free" drive and is accompanied by additional measures to crack down on underage vaping and support pregnant women in quitting smoking.

Key Points:

1. "Swap to stop" scheme: The UK government plans to offer free vaping starter kits to almost one in five smokers in England, marking the first national initiative of its kind. The aim is to provide adult smokers with an alternative to cigarettes and help them quit smoking.

2. Addressing concerns about youth vaping: While the government acknowledges the rise in youth vaping, Health Minister Neil O'Brien emphasizes the need to clamp down on businesses that are "getting children hooked on nicotine." The scheme aims to strike a balance between cutting underage vaping and supporting adult smokers.

3. Financial incentives for pregnant women: In addition to offering free vaping starter kits, the government plans to provide financial incentives of up to £400 to pregnant women who quit smoking. This initiative aims to reduce the 9% of women who still smoke during pregnancy in England.

4. Consultation on mandatory advice: The government will launch a consultation on introducing mandatory advice on quitting smoking to be placed in cigarette packs. This measure aims to further promote smoking cessation and provide support to smokers who want to quit.

5. Tackling illicit vape sales: The government plans to crack down on the illegal sale of e-cigarettes to under-18s and illicit vape sales. Flying squads will be deployed to target retailers selling to underage customers, and additional funding will be allocated to customs and border agencies to tackle imports of illicit products.

Conclusion:

The UK government's "swap to stop" scheme represents a significant step in helping smokers quit cigarettes by providing them with free vaping starter kits. While concerns about youth vaping persist, the government is committed to finding a balance between reducing underage vaping and supporting adult smokers. The financial incentives for pregnant women and the consultation on mandatory advice further demonstrate the government's commitment to achieving its goal of a smoke-free England by 2030. However, advocates argue that more needs to be done, including increased funding for mass media campaigns and tougher regulations on the sale of tobacco and vaping products.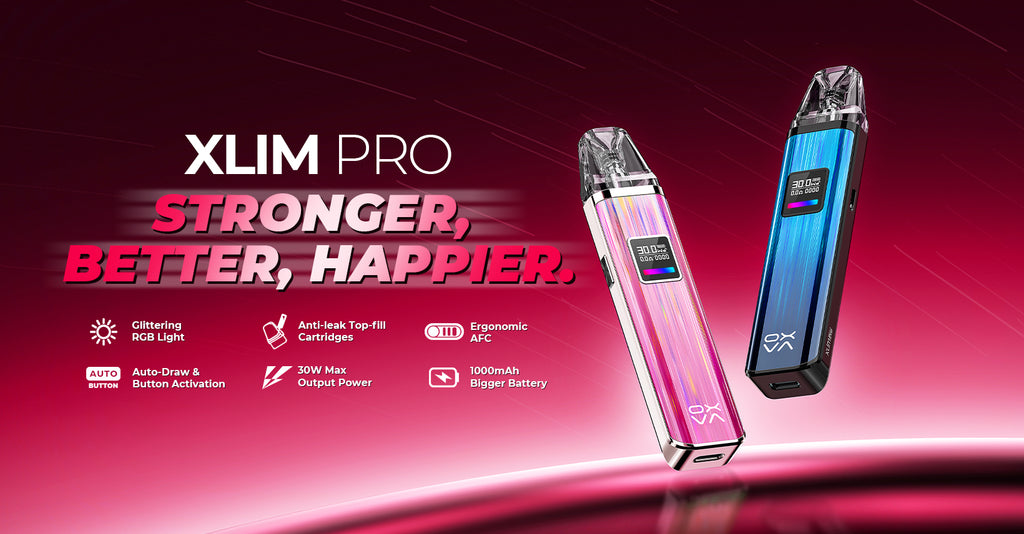 About OXVA
In the fast-paced world of e-cigarettes, OXVA has emerged as a prominent brand, driven by the vision of its founder, Justin Lai, and a team of passionate individuals who share the same values. OXVA is committed to delivering the finest quality products while prioritizing outstanding customer care service. With its innovative offerings, OXVA has quickly become one of the fastest-growing e-cigarette brands in the market.

OXVA's Best Sellers Product: The XLIM Pro Kit
OXVA's commitment to quality and customer satisfaction sets it apart in the e-cigarette industry. The XLIM Pro Kit showcases the brand's dedication to innovation, convenience, and versatility, making it a popular choice among vaping enthusiasts. Whether you prefer Mouth-To-Lung or Restricted-Direct-To-Lung vaping, the XLIM Pro Kit delivers a superior experience. With its range of compatible pod options, OXVA ensures that every vaper finds its ideal setup. Explore OXVA's products and join the growing community of satisfied OXVA users today.